Kayhan Kalhor, Rembrandt Frerichs, Tony Overwater & Vinsent Planjer | It's still autumn |
Kepera Records 2019 | click to listen |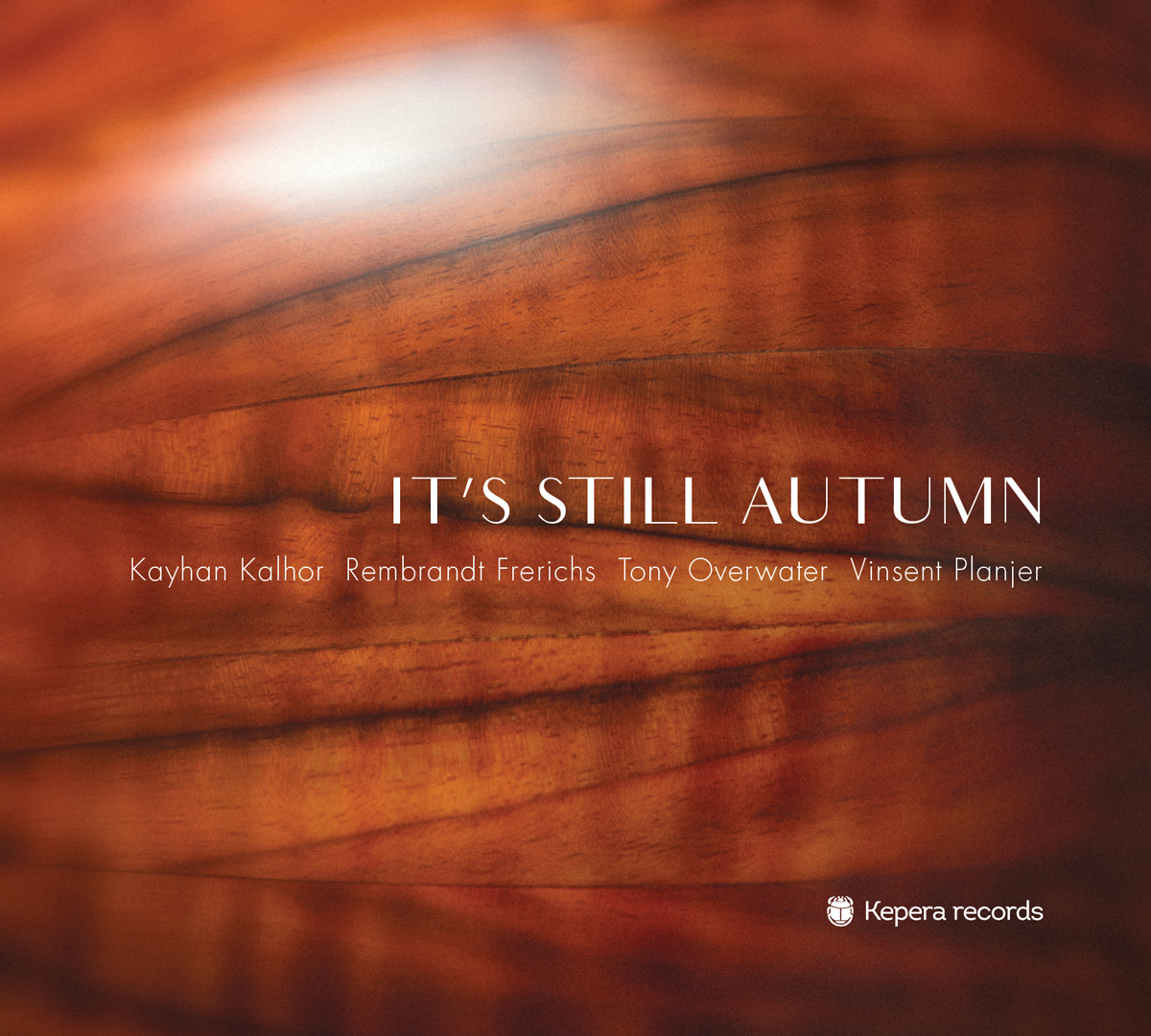 ---
During the fall of 2013 they first met at November Music Festival and since then there has been a successful collaboration and a deep friendship between this Iranian kamancheh grand master Kayhan Kalhor and the three Dutch jazz musicians of the Rembrandt Frerichs Trio.
The musicians
Kamancheh player Kayhan Kalhor, known for his successful albums for ECM and his participation in Yo-Yo Ma's Silk Road Ensemble, finds the ideal travel companions in pianist / composer Rembrandt Frerichs, bass player and Boy Edgar prize winner Tony Overwater and drummer Vinsent Planjer. Together they travel through contrasting cultures and styles and their remarkable instruments merge into an absolutely unique sound that transcends all boundaries and gets an international audience deeply involved.
The music
After a large number of sold-out concerts at festivals, concert halls and TV shows in both the Netherlands, Iran (3 evenings 3000 people per concert) and Great Britain (Barbican Hall), the long awaited album 'It's still Autumn' has finally arrived. The album consists of 2 parts Dawn and Dusk. Both parts, consisting of several compositions that are woven together through improvisation, are a musical journey through an imaginary autumn landscape. It is music best enjoyed while listening attentively, to be carried along in an initial stillness that slowly develops into a swirling river to calm down again or end in a thunderstorm in the night.
The instruments
The kamancheh is the Iranian knee violin known for his heartrending, melodious sound. the fortepiano, the forerunner of the modern grand piano, comes from Mozart's time and is reminiscent of the santur, the Persian cimbalom. The violone comes from the early Renaissance and is the forerunner of the double bass and can fulfill a melodic, harmonic as well as a bass function with its 6 strings and lighter timbre. The Whisper Kit, an invention by Vinsent Planjer, brings together percussion instruments from various cultures and periods that create a rich rhythmic basis.
---
Youtube 
Live bij Podium Witteman
https://youtu.be/R6D_3sBN3FM
Live in de Doelen, Rotterdam
https://youtu.be/i8V2OtvNg-g
Internet
http://kayhankalhor.net/
https://www.facebook.com/KayhanKalhor/
https://www.facebook.com/rembrandttrio/
http://www.rembrandtfrerichs.nl/
https://www.facebook.com/tony.overwater
http://tonyoverwater.com/
https://www.facebook.com/vinsent.planjer
---
Tracks:
I. Dawn
1. I. Introduction (K. Kalhor, R. Frerichs, T. Overwater, V. Planjer) (4:47)
2. II. Dew Drops (T. Overwater) (3:48)
3. III.  Kayhan's Chahar (K. Kalhor) (8:48)
4. IV. Still (K. Kalhor, R. Frerichs, T. Overwater, V. Planjer) (6:53)
5. V. Offering (Ara Dinkjian) (4:17)
Total length: 28:33
II. Dusk
6. I. Introduction (K. Kalhor, R. Frerichs, T. Overwater, V. Planjer) (8:10)
7. II. Autumn (Armenian Folklore) (5:21)
8. III. Autumn Winds (T. Overwater) (3:23)
9. IV. Long Story Short (R. Frerichs) (9:20)
Total Length: 26:14
---
personel
Kayhan Kalhor - kamancheh
Rembrandt Frerichs - fortepiano, harmonium 
Tony Overwater - violone, double bass 
Vinsent Planjer - whisper kit 
---
Credits
Recorded at Fattoria Musica Osnabrück 
6 to 10 November 2015
Recording engineer: Tijmen Zinkhaan 
Mixing engineer: Fieke van den Hurk 
Analogue Tape Mastering: Michael van Polen, Rhapsody Analogue Recordings
Mastering:Frans de Rond
Graphic Design: Mehdi Javadinasab (A4 Design House) 
Cover Photo: Mohammad Moradi 
Produced by Kayhan Kalhor, Tony Overwater, Rembrandt Frerichs and Vinsent Planjer 
Published by Kepera Records 
---
Original liner notes with the album
The opening notes of Dawn are like a mysterious doorway into another world. It's basically the note D, softly intoned by several instruments in different registers with different overtones and textures. It feels as if we're travelling through mist, or through time and archaeological layers where fragmentary remains are hinted at by soft piano notes, the high whistle of strings and delicate percussive rattles. After two minutes or so, the mist clears and we emerge in another place, perhaps another time, but certainly in a unique world where we hear a dark, rich melody on the bowed kamancheh, melancholy but proud. 
Kayhan Kalhor is playing the Shah Kaman (King of Kamanchehs) which has an extra low string to give this profound, dark tone. After the lengthy kamancheh solo, which slowly soars into flight and then returns to earth, the soft notes of the fortepiano are clearly heard for the first time with classical ornamentation. This is a reproduction of a 1790 fortepiano, the sort of instrument that Mozart played. "The sound is in between a piano and harpsichord," says Rembrandt Frerichs. "It appeals to me because it sounds rather like an Iranian tar (lute) or santur (hammer dulcimer). It's also got less overtones than a modern piano so it opens up to other instruments - whether they're singers, Baroque violinists or jazz musicians." 
We are indeed in another world, where a modernised version of a Persian spike fiddle, meets an archaic form of a modern European piano and where they complement each other perfectly. Rembrandt and his colleagues in the trio are lovers of Persian music, although they don't see the point in imitating it, but prefer to create something new. "You can't really categorise what we are doing," says Kayhan. "It's not jazz, it's not classical, its just an organic something we do with our instruments and the focal point is improvisation." 
Tony Overwater plays a Baroque violine (bass viol) which sounds more like a low-pitched Arabic lute than a double bass, which "makes it suitable for playing both bass lines and melodies," he says. Towards the end of Morning, after a passionate kamancheh outburst from Kayhan Kalhor, Vinsent Planjer comes to the fore with his custom-built 'whisper kit', much softer than a regular drum kit with a diverse range of instruments. 
"We both have strong musical backgrounds," explains Rembrandt, "mine in jazz and Kayhan's in Iranian classical music. We can create this new thing because we are both strongly rooted in our own traditions. Because we love each other's music we can meet up, but we don't want Orientalism." 
The second piece, Dusk, is less introspective. There's a twilight wind and thermal currents enabling the melodies to fly. What impresses in this recording, is the way the four players are listening and responding to each other. Sometimes it's rhythmic patterns that are exchanged, sometimes melodies that answer each other with a consistent sense of direction and a unity of vision. We can't see it, but there's clearly a mental musical map that these melodies are flying over. 
 Simon Broughton (Editor in Chief of Songlines)